product
Contact us
company name:Zhengzhou Yufeng Heavy Machinery Co.,Ltd
factory add: North Dongfang Road, Mazhai Industrial Park, Zhengzhou City, Henan, China
Tel: +86 371 60395600
Fax: +86 371 67681159
Cell: +86 15890080350
Email:yfballmill@gmail.com
MSN: yfballmill@hotmail.com
Skype: yufmachinery
Position:home

>>

Product

>>

Heavy Hammer CrusherProduct
Heavy Hammer Crusher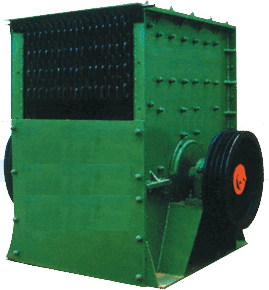 Heavy hammer crusher, crushing machine in the PC series,based on the user feedback information and the broken development of the industry dynamics,combined with the experimental data while the company developed a new type crusher.Hammer Crusher other than the use of alloy composite hammer with a hammer wear a high moment of inertia of large,high kinetic energy of a distinctive feature of the rotor.into the material with a size large,broken than large,and low maintenance costs.when producing 50-500 tons so that the series of crushers crushing industry is becoming the preferred device. Feature 1,The heavy hammer crusher with high yield,low enery consumption,simple structure,easy maintenance. 2,with the same output compared with jaw crusher can reduce the investment in equipment,with less investment and quick. 3,this machine adopts the grate of the design ,for the wet material,containing more than a broken earth raw materials,eliminating the risk of blocking adhesion. 4,machine uses alloy composite hammer,reducing the wear parts consumption,reduce production costs by about 35%.

Main Purpose of Heavy Hammer Crusher:
Heavy hammer machine applies to the middle broken brittle hardness of materials, such as coking coal, salt, chalk, alum, small pieces of limestone. gypsum, etc., were broken materials shall not be greater than the compressive strength of 150 MPa, water not more than 10 percent.

Technical parameters of :
| | | | |
| --- | --- | --- | --- |
| Model | Max. feed size (mm) | Capacity(t/h) | Motor power(kw) |
| 1000×1000 | 650 | 60-80 | 75-90 |
| 1000×1200 | 650 | 80-100 | 110-132 |
| 1200×1400 | 650 | 100-140 | 160-200 |
| 1400×1600 | 650 | 120-180 | 220-250 |
Yu Feng Heavy Industry is a leading domestic manufacturer of
Heavy Hammer Crusher
manufacturer,sales to many countries and regions around the world.Please contact our
Heavy Hammer Crusher
department,in order to know more information about
Heavy Hammer Crusher
.